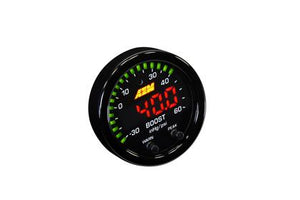 AEM Electronics X-Series pressure gauges display exceptional looks, increased readability, and a multitude of features. Easier to read, easier to mount, and easier to use, they are the must-haves for highly accurate oil, fuel, and boost pressure readouts in your high performance vehicle.
Features:
* Reversible black face (psi/BAR) and black bezel
* 2 1/16 in. (52mm) gauge diameter for easy mounting in gauge pods 
* Slim 0.825 in. overall gauge depth and 0.200 in. cup depth--mount them virtually anywhere! 
* Programmable center LED is 87 percent larger than original AEM gauges 
* 24 green outer-edge LEDs offer quick reference to engine parameter 
* User-selectable standard or metric display (PSI/BAR) 
* Peak/Recall via gauge face buttons 
* User-selectable threshold warnings 
* AEMnet CANbus-enabled for transmitting data to EMS or data logger 
* 0-5 V analog outputs for transmitting data to EMS or data logger 
* Auto dimming sensor delivers ideal display brightness 
* Positive locking connectors provide secure connection