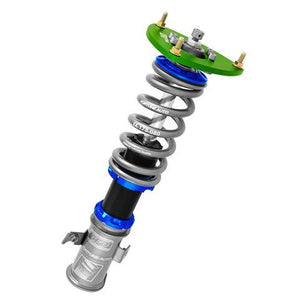 FORTUNE AUTO 510 SERIES COILOVERS - GENERATION 8
Standard Spring Rates: 8K Front & 8K Rear
Custom spring rates are available at no extra cost. Please leave a note on the checkout page with your desired front & rear spring rates.
Spring rates up to 18K are available on standard springs. Rates higher than 18K will require Swift springs upgrade
Fortune Auto is proud to release the all new 510 series dampers. The advanced suspension technology found in their new dampers is derived from recent successes in World Challenge, One Lap, & Global Time Attack. All systems are completely hand-built. Fortune Auto insists on building bespoke suspension in order to offer the best quality control in the industry.
The ultra wide range of adjustment offered by the CFD piston allows for the convenience of tuning your suspension without having to revalve your dampers. A conventional shock absorber can withstand a 2kg spring rate difference before requiring a revalve, whereas the Concave Flow Digressive Technology has a broad range of 8kg spring rates. This is invaluable for tuning your suspension quickly at the track on race day.
The Concave Flow Digressive Piston allows for a Jekyll and Hyde personality. Lower spring rates can be stiffened up by using the wide damping range as an artificial spring rate, while higher spring rates feel much smoother. The large adjustment range contributes to a comfortable ride on the street and unyielding performance on the track, all with the twist of a single adjustment knob.
Features
Amsoil Synthetic Shock Oil

Concave Flow Digressive Piston Technology

Custom Built - Assembly Certificate and Dyno Graph Supplied with all 4 Shocks

Modularity - Upgradeable to 2-Way Canister

24 Step Simultaneous Rebound and Compression Adjustable Dampers

Monotube Damper with High Pressure Nitrogen

Aluminum T6 6061 Mounts and Camber Plates *Front Camber Plates only come standard on vehicles with MacPherson style struts*

Bright Dip Anodizing Looks Great and Protects

Radial Bearing Mounts

Back-Milled Aluminum Components

Rebuildable and Revalveable at our VA Facility

5 Year Limited Manufacturer's Warranty