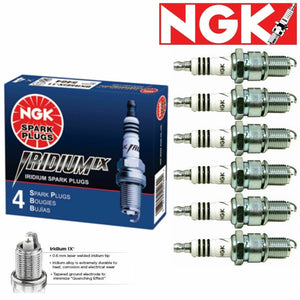 These NGK Iridium plugs are more durable and contain a higher melting point compared to Platinum. Enjoy the benefits of reduced corrosion, improved ignition, superior anti-fouling, and a lower required voltage. These NGK plugs will get you running smoother and making more power through increased efficiency and increased heat resistance.
Two Steps Colder plugs are recommended for cars with heavy modifications.
Fitment: 1993-1998 Toyota Supra (Turbo ONLY)
Plugs Included: 6
Heat: Two Steps Colder
Spark Plug Type: Iridium IX
Stock Number: 2668
Part Number: BKR8EIX
Features:
-Fine Iridium tip ensures high durability and a consistently stable spark
-Iridium alloy has extremely high melting point, perfect for today's high-tech, high-performance engines
-Trivalent Metal Plating - superior anti-corrosion and anti-seizing properties
-Outstanding acceleration, high fuel efficiency and durability
-Ultimate design, technology and performance.
Note: NGK Iridium plugs are able to use larger gap setting with less voltage. Some customers choose to regap these plugs to correct misfiring or tune for optimal spark -- do so at your own risk -- slide-type plug gapper can damage the fragile Iridium tip.