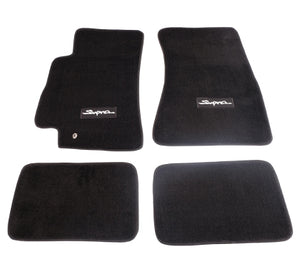 Why spend $600+ dollars on OEM floor mats when all you're going to do is rub your dirty shoes all over them? Even for the Supra's that hardly get driven, how much would it suck to get one spec of dirt on brand new OEM floor mats? Yeah, exactly.
That's where these cost-effective OEM replacement Supra floor come into play. 
These floor mats are pre-shaped for the MKIV Supra & include 1st and 2nd row mats. A white Supra logo is placed on each of the 1st row mats to top off the OEM look.
The high quality construction of these mats are made with the same fabrics as OEM floor mats. Best of all, you don't have to worry about ruining them due to how affordable these are! Just buy a new set if you wear these out.
Price is for all 4 mats (front and rear). These floor mats are shaped for LEFT HAND DRIVE Supra's only.