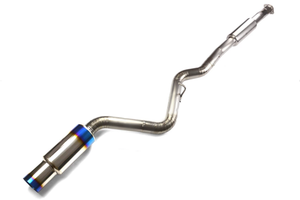 If you are looking to add performance by shaving vehicle weight and adding horsepower, then you will be pleased with the Tomei Expreme Titanium Cat-Back Exhaust System. This exhaust system has been fully fabricated from lightweight titanium and has a 34.84lb weight drop when compared to the stock exhaust. This exhaust system has been designed with minimal bends to reduce exhaust turbulence under acceleration which improves throttle response and adds both horsepower and torque.
This is a direct replacement for your factory equipped exhaust system, and exhaust hangers are welded onto the OEM locations so you don't have to perform further modifications to the body. There will be a sperate exhaust hanger included to position it the exhaust to your liking once installed. Also included with this exhaust is a new gasket, hardware, and the required clamps to make this exhaust system ready to install.
This is a single exit style exhaust that will provide your vehicle with an aggressive tone under acceleration and at idle, and will improve horsepower, torque, and reduce turbo lag.