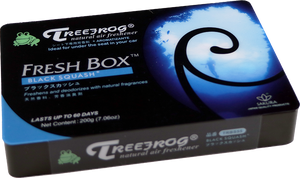 You have stumbled upon this ad because lets face it, your car stinks. Literally. The inside probably smells like boiled pennies. Or maybe it doesn't stink and you just hate the new car smell. Save yourself with this TreeFrog Black Squash Fresh Box! Meant to be under the seat or on top of dash in the car. High quality air freshener at a very affordable price. The Black Squash scent is the most popular air freshener scent world wide. Generally used in cars, offices, restrooms, etc.
Run 1, run 100. The smell is fresh and never over-powering!
Each unit comes with a piece of double sided tape to secure the box onto mostly any surface!